Create an FIU config on the Bridge#
Register on The Bridge, if you haven't already. From the Products page, navigate to the Data tab. Select the Financial Information User to begin creating the FIU.
You can read a bit about the FIU product on the profile page before clicking on the Create an FIU button.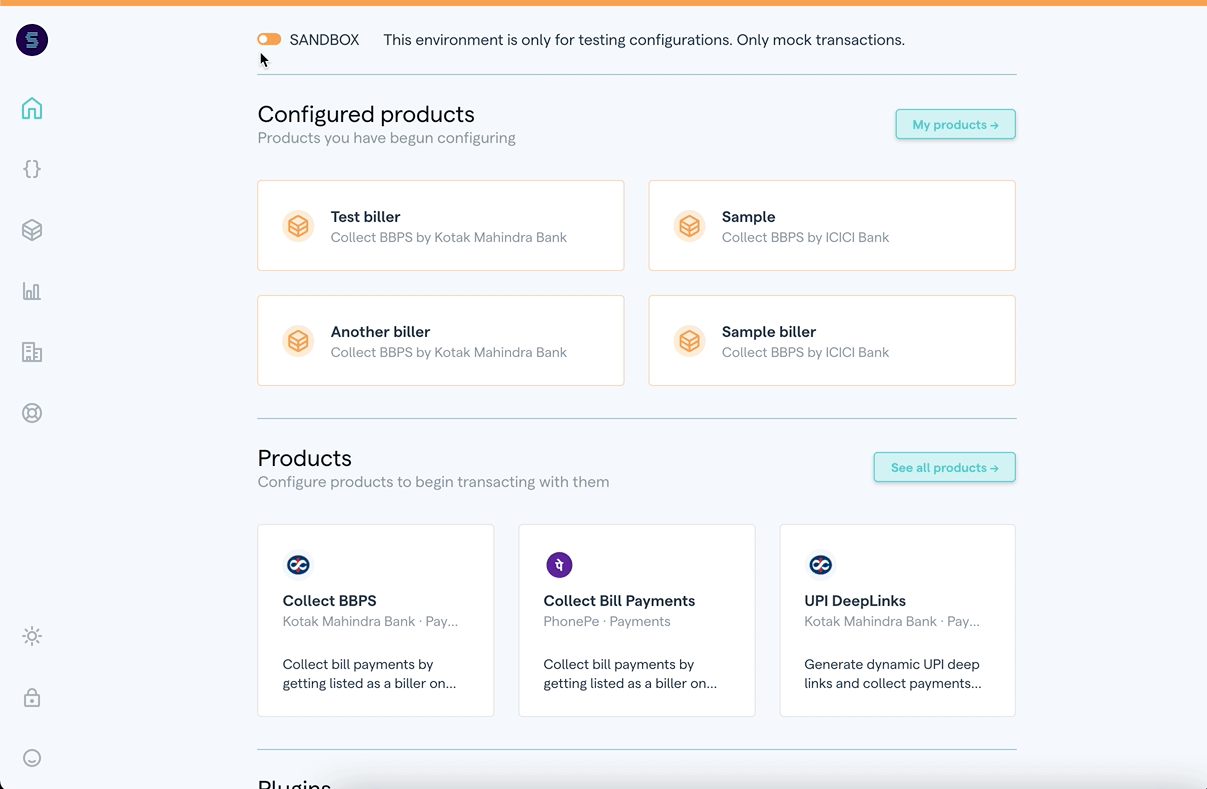 ---
Step 1 — Add an FIU app name#
Enter this name for the FIU app. This is what the FIU will be registered as eventually, but you can always edit before going live.

---
Step 2 — Theme Consent Manager screens#
Setu provides a set of prebuilt screens that your customer sees upon receiving the consent request from you. These screens will be used by your customer to register with Setu AA, review consent request, link their data and approve/reject the request.
You can theme these screens to match your brand—add your logo, primary and secondary colours, font colour and background colour—to provide a seamless UI transition for your customers.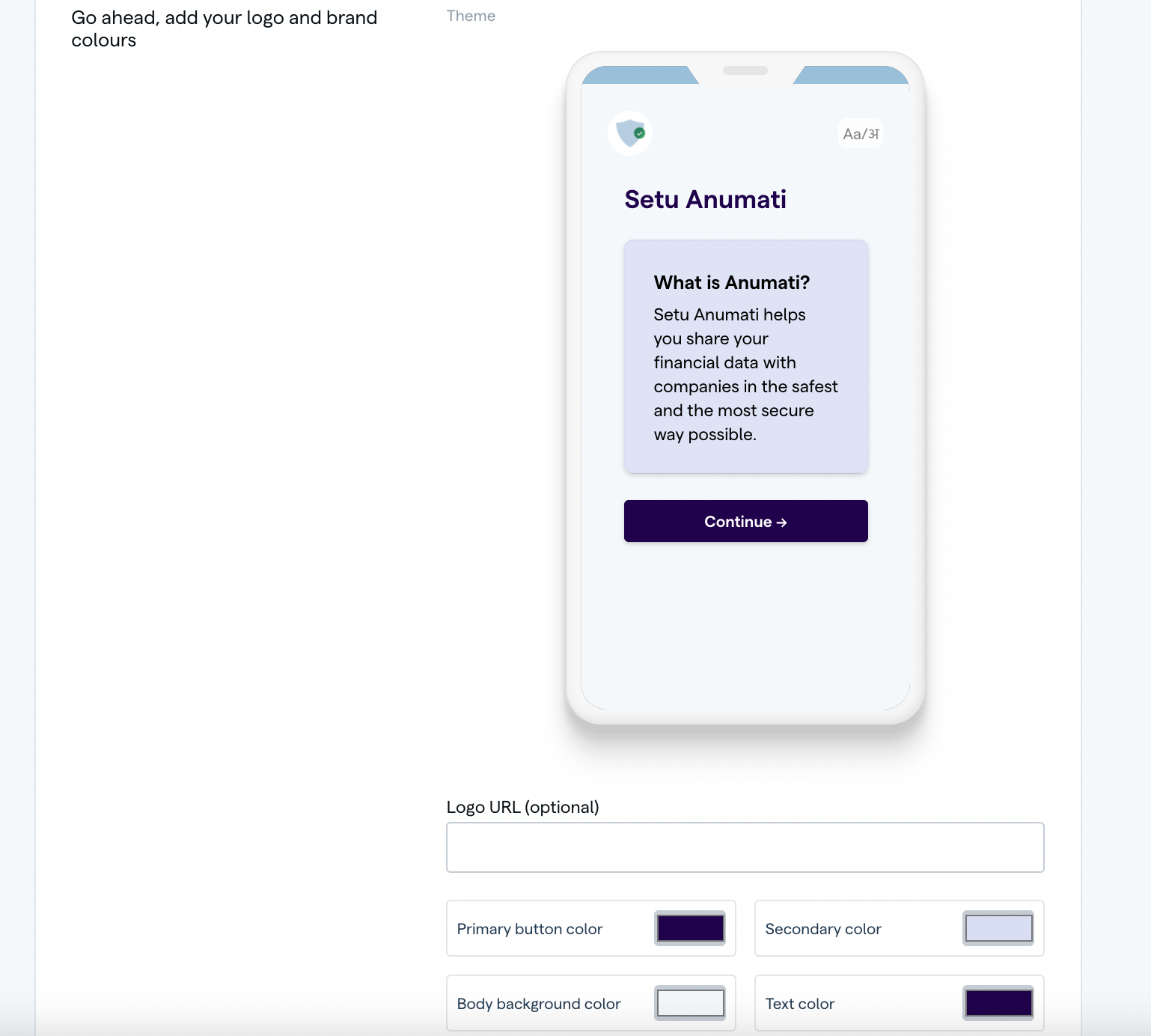 ---
Step 3 — Provide endpoint and key#
You will need to specify a notification endpoint on The Bridge, the URL to which Setu will send notifications.
To get started quickly, you can setup a mock API endpoint using Beeceptor. Once configured on Bridge, Setu will send notifications to that URL. This will help you understand the notification flow before you start to implement it on your server.
You will be notified for two types of events—
Actions by the user, such as accepting or rejecting a consent request, and
Updates from the FIP, such as when the requested data is ready to be fetched.
Note that we will always append /Consent/Notification to the URL you provide here.
You can read about notifications in detail here.

Below the URL input field, you can generate your request signing keys. This public key is expected to be used to sign all your API requests.
Store the corresponding private key as well, to use it as the signing_private_key variable in the Postman collection for testing AA APIs later.
For details on the resources used to generate these keys, refer to this guide.
---
Step 4 — Get credentials#
Once all the above steps are complete, you will be able to get Setu's public key. Use this to verify all the calls Setu makes to your servers.
Read more about the request signing process here.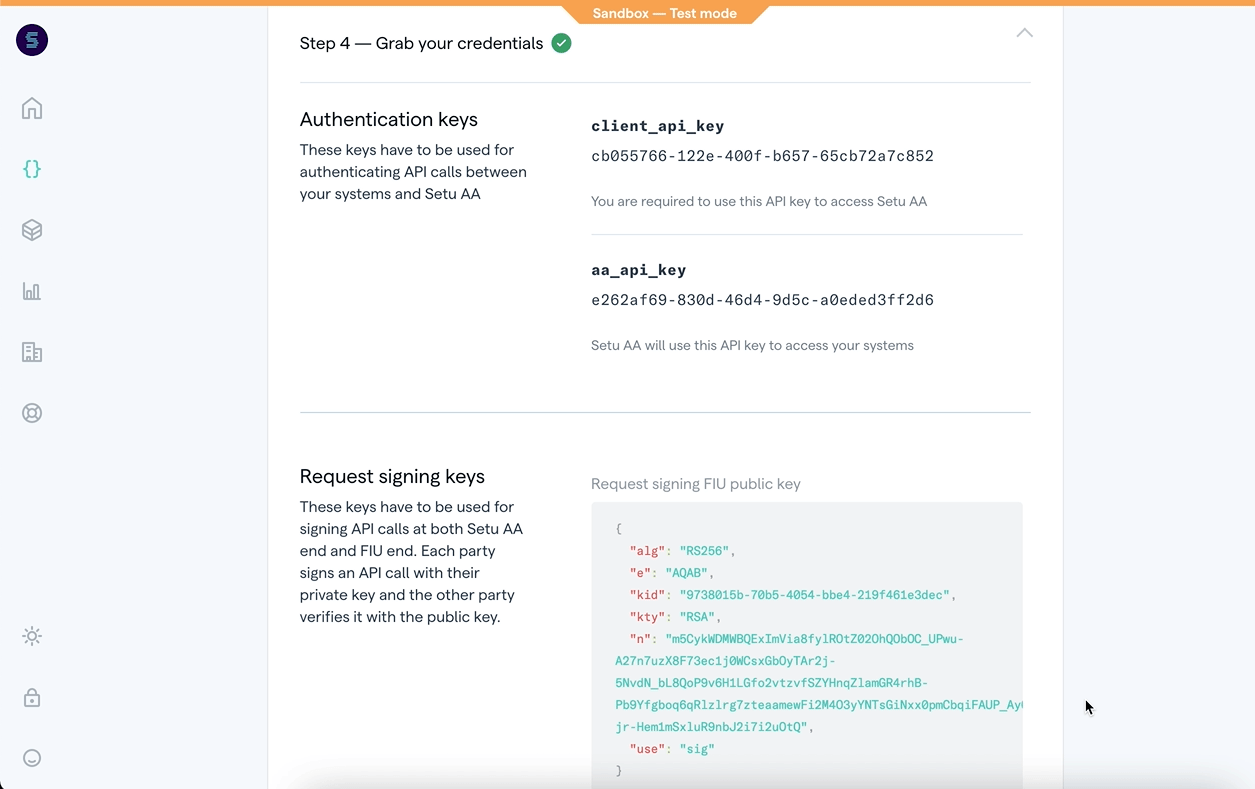 ---
Add your team to Bridge#
The FIU app you have configured on The Bridge can be shared with other members of your team. Invite people from your org via org settings to let them access the configured FIU app.
Known issue: Member roles are not supported for AA Sandbox apps. Please use the Admin role while inviting new members.
---
Next steps#
Read Postman guide->
Get started with our Postman collection, which has preset values for API calls to test the entire AA flow.